Covid-19 measures until there is a vaccine
Tours will commence from 31st July 2020,
but there are strict measures in place.

Please read this carefully before booking:

Private tours only
Min 2 persons – max 10 persons
The group must be of the same household and not social distancing from each other.
I have discounted the standard private tour price from £20 each to £14 each
No child/student concessions/group discount

Family ticket £46
2 adults 2 child (age 15 and under)
Strict Covid Tour Requirements
Masks not required but remain 2m from your guide.
Important:
Please notify each member of your group:
Do not think about, or attempt to come on a tour if any of the following are present:
Cold/flu/covid like symptoms – These are sniffles, runny nose, cough, sneeze, temperature or rash.
Contact in advance of tour if any of the above symptoms manifest for a refund.
If any of these are displayed on a tour, the person must leave the tour – no refund. Blow your nose and the tour stops! Simple as. You have been warned!

These measures are unfortunate but necessary as the only way a tour will work. Many thanks for your understanding and cooperation.

For enquiries please email – Click here
Updated 15 July 2020
St Andrews Ghost Tours are guided walking tours around historic St Andrews
educational – factual – exploratory
184 haunted locations – 260 ghosts
For it's size, St Andrews has one of the highest concentrations of paranormal activity you will find anywhere… Come on a tour and find out why!

As an ideal showcase of St Andrews, these guided walking tours take in the major historic quarters including the Cathedral, Archbishops Palace and Colleges of Scotland's oldest university.
Whether you're interested in the paranormal, the history, the sights of St Andrews, or all of the above, this is a great way for any looking to explore and find out more about this unique part of the world. 
Recommended by Rick Steves



"Now part of many a bucket list as a 'must do' whilst in St Andrews"
Please note
These are factual, historical, educational tours, and with this, a note of caution to the unwary. This is the real stuff. If you're looking for theatrics or costumed actors, you won't find any here. Neither will you find any contrivance or embellishment, and the only 'jumper ooters' are the real ghosts!

Fabulous night
"I have been on ghost walks all over the world and can say this is one of the best. Richard was excellent with delivering the abundance of knowledge he has aquired. His passion shows. Thank you for a memorable night in Scotland."
R DeEtte, Wisconsin
St Andrews is not only the home of Golf…
it is also the home of Ghosts!
7 days a week – throughout the year
January to December*

4pm   5:30pm   7:30pm   9pm
+ 2pm throughout October

Each tour approx 90 mins 
All tours pre-booking only – no walk ups
*check booking calendar for any exclusions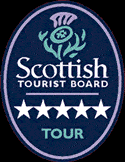 We are one of only 4
walking tours in Scotland with 5 stars
St Andrews #1 Tour
#1 Historical/Heritage Tour in Fife
#1 Sightseeing Tour in Fife
#1 Walking Tour in Fife